Cultura Artística, a private non-profit cultural institution, opens applications for the Selection Process for the Magda Tagliaferro 2023 Scholarship Program. Cultura Artística's mission is to make art part of people's lives, through inspiring performances and educational actions. The values ​​of Artistic Culture are excellence, innovation, culture, education, entertainment, diversity and accessibility.
The Program aims to complement and expand the training of young musicians and classical musicians who seek professionalization in the area of ​​performance, in the modalities of Singing and Instrument, and prepare them for the next step in their career. . The 2023 Notice will offer vacancies in the following categories: Pre-university and University.
The following benefits will be offered:
Grant-in-aid worth R$1,500.00 per month;
Private classes with renowned teachers, for technical improvement and preparation for selection processes and national and international competitions;
Free access with a companion to the Artistic Culture program;
Priority in masterclasses promoted by the Institution;
Language courses in partnership with the French Alliance, Cultura Inglesa or the Goethe Institut;
Up to two annual plane tickets to participate in festivals, competitions and university tests;
Cost allowance for instrument maintenance;
Orthopedic and physiotherapeutic care in partnership with Instituto Vita;
Complementary training courses and workshops promoted by Cultura Artística, which seek to offer a humanistic vision of the educational process;
Socio-pedagogical monitoring of studies and personal development.
Selection Process | Magda Tagliaferro Scholarship Program 2023
Access the notice to find out more. Registration will close on 03/26/2023, at 10pm.
Approved in the 2023 Selection Process
Gabriela Taveira Grande
João Pedro Marques Brandão
Jordan Alexander Gomes Rodrigues Pereira
Mateus Colares de Souza
Samuel Guedes Fagundes
Gabriela Grande, transverse flute
In 2014, at the age of 9, he began his studies of Transverse Flute at the Escola Livre de Música Maestro João Seppe, in São Carlos, São Paulo. With a trajectory full of changes: Gabriela Grande studied for three years at the Municipal Conservatory of Salto Maestro Henrique Castellari; in 2020 he left the conservatory and started taking classes with Angela Martineli and Lucas Lira at the Heitor Villa-Lobos Music School, in Americana, and also with teachers Daniel Lazinho and Ana Luiza Sofiatti at the Free School of Music, in Limeira; Since 2021, the year Gabriela joined the São Paulo Municipal School of Music, she has been a student of Professor Rogério Wolf. 
 
In 2022, aged 17, he began to participate in contests, among them, he participated in the First Round of the Prelude on TV Cultura; won first place in Cycle A of the 3rd National Competition for Young Flutists "João Dias Carrasqueira" and was one of the winners of the Young Soloists contest of OSJM. 
Guimel Bebiano Alves, oboe
Oboist and saxophonist, Guimel began his music studies in 2011 at Guri Santa Marcelina, taking safoxone lessons with Israel Viana. In 2013, he joined Emesp Tom Jobim to continue his studies with César Albino and Paula Valente. In 2016, he joined the Popular Saxophone specialization at Emesp under the guidance of Mané Silveira, while in that same year he began studying the Oboe with Professor Raquel Gonçalves through the Guri project. The following year, he entered the Municipal School of Music to perfect himself on the instrument with teachers Joel Gisiger and Roberto Araújo. 
 
He performed as an oboist for the Municipal Youth Orchestra of Guarulhos, the São Paulo State Symphonic Band and the Tom Jobim Youth Orchestra, in addition to participating as a guest musician in some concerts at the OSESP Academy. He also participated as a scholarship holder at the Festival Música na Serra, Festival Música nas Montanhas and Festival de Música de Bauru, taking classes with Ricardo Barbosa. 
 
He is currently studying the Bachelor of Oboe at the São Paulo State University (UNESP) under the guidance of Professor Arcadio Minczuk, is a member of the São Paulo State Youth Orchestra and is a scholarship holder of the Cultural Artistic scholarship program 
João Pedro Brandão, cello
João Pedro Brandão, started his musical studies in the church at the age of 11 and, at 13, he joined the Instituto Baccarelli in the class of professor Rafael Cesário. He was a member of the Tom Jobim Youth Orchestra in 2020, and the São Paulo State Youth Orchestra between 2021-2023. He participated in masterclasses with renowned artists such as Antônio Meneses, Sheku Kanneh-Mason, Kristina Winiarsky, Giovanni Gnocchi, Matthias Bartolomey, Dennis Parker, Marc Vossen, André Micheletti and Fábio Presgrave. He was also part of important Latin American and international festivals such as Ilumina Music, Orquestra Jovem Allegro, Campos de Jordão Winter Festival and Gramado in concert. 

Jordan Alexander, piano
Jordan Alexander performs intense participation in several festivals in the country and abroad, such as the Festival Pianale (Germany); International Piano Week – Cushing Academy, (USA); at the Leonel Morales Piano Festival (Spain); Winter Festival, in Campos do Jordão, among others. 
 
Currently 21 years old, the pianist has already accumulated dozens of awards in his curriculum, including 1st Place at the Almeida Prado Piano Festival, 1st Place at the Guiomar Novaes National Competition and the Nelson Freire Prize at the International Piano Festival in Rio de Janeiro, destined to the best Brazilian pianist. 
 
In 2023, Jordan was selected to join the Magda Tagliaferro Scholarship Program, promoted by the Sociedade de Cultura Artística, where he studies with Lucas Gonçalves. 
Josué Rodrigues dos Santos Junior, clarinet
Clarinetist with the Orquestra Jovem do Estado de São Paulo, studied at major Brazilian educational institutions such as the Municipal School of Music of São Paulo, School of Music of the State of São Paulo (EMESP Tom Jobim). He also studied at the Guri Santa Marcelina program under the guidance of Professor Marcelo Silvério and through the program was selected to participate in an exchange program at the Juilliard School in New York. 
 
In his experiences in symphonic groups, he performed in the Municipal Youth Symphony Orchestra of Guarulhos, was first clarinet of the Youth Orchestra of Theatro São Pedro and soloist of the Youth Symphony Band of the State of São Paulo. 
 
He is currently studying Bachelor of Music with qualification in Clarinet at the São Paulo State University (UNESP) in the class of Professor Sergio Burgani and is a student of Tiago Naguel through the Scholarship of Artistic Culture.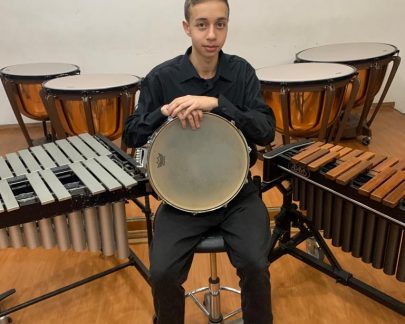 Samuel Guedes, classical percussion
He began his percussion studies at the age of 9, at Banda Lyra de Mauá, and joined EmespTom Jobim in 2019, taking classes with Herivelto Brandino. He was a scholarship holder of Banda Jovem do Estado in 2022, and participated in the 2⁰ Campos do Jordão Summer Festival with the Roots Percussion quintet.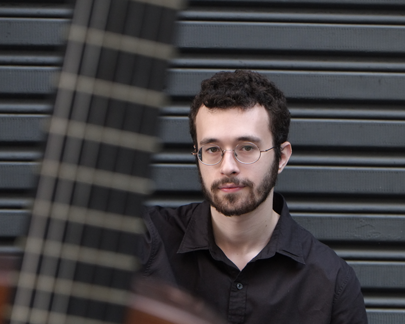 Thiago Leite Barbosa, guitar
He started studying Classical Guitar in 2014 with Professor Luiz Roberto Moura in the municipality of Jandira. In 2015, he participated in the X Guitar Contest at the Villa Lobos Conservatory of FITO in the 3rd round, in which he won second prize. 
 
At the end of 2015, through his teacher, he met Paulo Martelli and started taking classes with him. In 2016, he joined the Escola de Música do Estado de São Paulo (EMESP), where he started to take classes with other important names in Brazilian guitar such as Paulo Porto-Alegre, Chrystian Dozza and Thiago Abdalla. In 2018, he passed the entrance exam to study Bachelor of Music with an emphasis on Guitar at UNESP. 
 
He has participated and been awarded in two of the most important and traditional national guitar competitions: Souza Lima, in 2017 (3rd Round – 3rd place) and 2019 (3rd place), and Musicalis, in 2019 (2nd place). 
 
In 2019, he also participated in two important series of concerts, Movimento Violão Novos Rumos and the Guitar Week at the Conservatório de Tatuí. In early 2022, he was one of those selected for a scholarship in the "Ensemble Contemporâneo" group at the 1st Campos do Jordão Summer Festival. 

Vinícius Benalia Penteado, piano
He began piano studies at the age of 8, at the Municipal School of Artistic Initiation (EMIA) under the guidance of teacher Sylvia Chiapetta. He was also his student at the Magda Tagliaferro Foundation, participating in recitals and Masterclasses where he improved his pianistic techniques. In 2019, at the University of São Paulo, he started taking piano lessons with Professor Luiz Guilherme Pozzi. In 2020, he joined the School of Music of the State of São Paulo (EMESP) to continue his studies and, in parallel, is studying baccalaureate in conducting at the University of São Paulo (USP). 
 
He has played in numerous formations, having extensive experience as a chamber musician and co-repeater. He also participated in programs with OCAM and OSUSP in 2019. He was a finalist, for two consecutive years, in 2020 and 2021, in the Guiomar Novaes state piano competition. He was also a finalist in the Almeida Prado piano competition in 2021 and won first place in the XXX Souza Lima Piano Competition in 2021. 
Adriel Rodrigues Ferraz, violin
Albert Andrade, baritone
Andressa Daniella Santos, percussion
Aurea Diovana Carlos dos Santos, cello
Bruno Carneiro de Camargo, saxophone
Caio Albuquerque, cello
Caroline da Silva Mattos, violin
Diana Alves, violin
Eduardo Gutterres, guitar
Eloisa Rocha, violin
Gabriel de Oliveira, violin
Gabriel Iscuissati, viola
Gabriele Leite, guitar
Giovana Carcanholo Dilio, flute
Giulia Costa, singing
Giuliano Dal Medico, cello
Graziella Araújo de Sousa, flute
Guido Sant'Anna, violin
Guilherme Aparecido Santana, viola
Guilherme Peres, violin
Henrique Silva, guitar
Iury Sousa Rodrigues dos Santos, violin
Izabella Kumagai de Oliveira, piano
Jamile Costa, violin
Joachim Emidio Ribeiro Silva, percussion
Johann Almeida Grisante, piano
Jonatas Santos da Silva, cello
Jordan Alexander, piano
Juan Rogers Soares Rodrigues, cello
Letícia Maia Durante, flute
Lucas Martins, flute
Lucas Targino Farias, violin
Lucas Thomazinho, piano
Luiz Abelardo Chavez, bassoon
Marcus Vinícius de Oliveira Figueiredo da Silva, double bass
Matheus Baião, violin
Nathalia Sudario, cello
Rafael Esparrel, clarinet
Rafael Figueiredo, double bass
Ramon Mundin, tenor
Ryu Wada, violin
Sandra Ribeiro, bassoon
Vitor Alves Mello Lopes, piano
Vitor Zendron da Cunha, piano
Wellington Carlos Santos Miranda, trombone